In 2018 we honored:

Dr. Louis Agnese, Jr. (President Emeritus–University of the Incarnate Word),

Heriberto "Berto" Guerra, Jr. (CEO of Avanzar Interior Tecnologies), and

State Senator Judith Zaffirini (Texas 21st Senatorial District).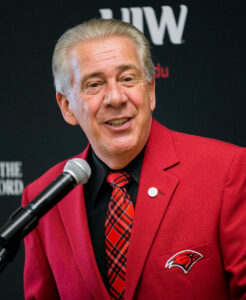 EDUCATION
Dr. Louis J. Agnese, Jr.
President Emeritus – University of the Incarnate Word
Dr. Louis Agnese, Jr.'s career as a teaching professional and higher education leader began at Gannon University in Erie, Pennsylvania, where he did post-graduate study and received degrees as an Education Specialist in Supervision of Counseling Services and a Master of Education in Counseling. As Gannon's Director of the Student Personnel Program from 1976 to 1979, Dr. Agnese carried both advising responsibilities and a graduate teaching workload. From 1976 to 1981 Dr. Agnese also reported directly to two Vice Presidents as the Director of Student Living, with budgetary responsibility for Gannon's security, maintenance, conference coordination, and food services areas.
Dr. Agnese moved to Sioux City Iowa in 1981 to become Vice President of Briar Cliff University, where he managed 16 administrative units, served as a spokesperson, liaised between the institution and its stakeholders, and assumed overall management duties in the President's absence.
Relocating to San Antonio, Texas in 1985, Dr. Agnese at 33 became one of the youngest Presidents of a four-year institution of higher learning in the USA.
By 1996, Dr. Agnese's leadership had spurred the transition of Incarnate Word College into University of the Incarnate Word (UIW). UIW's growth into Texas' largest Catholic university and 4th largest private university involved exponentially increasing the number of academic programs offered; increasing enrollment both locally and internationally; inaugurating a Division I football team, the Cardinals; spearheading development of the physical footprint of the main campus and satellite campuses; and establishing affiliated schools around the state and world. Under Dr. Agnese's watch, UIW has burgeoned to include nine San Antonio locations; sites in Corpus Christi and Killeen Texas; European Study Centers in Heidelberg, Germany, Strasbourg, France; and two Mexican locations.
Dr. Agnese created UIW's first two Ph.D. degrees and added professional doctoral programs in many graduate fields of study, including education, pharmacy, optometry, nursing practice, physical therapy and business administration. His efforts enable UIW today to offer 80 undergraduate degrees.
During Dr. Agnese's tenure, UIW's main campus enjoyed impressive expansion including erection of the two-level Barshop Natatorium (2001); the Gorman Business and Education Center (2002); the five-story McCombs Center (2002); the five-story AT&T Math, Science and Engineering Center (2005); the Feik School of Pharmacy (2007); the nine-story Ancira Parking Tower (2008), and the state-of-the-art Luella Bennack Music Center (2016), which houses a recording studio, electronic music and piano labs; music therapy rooms, practice rooms and larger rehearsal spaces; and two acoustically-engineered concert halls open for public performances. In 2017, UIW's School of Osteopathic Medicine began offering degrees at a new campus at Brooks City Base.
Dr. Agnese's commitment to education extends far beyond UIW's iconic brick walls. He established UIW's International Conference Center (ICC), a multi-million dollar facility featuring high tech communications and instruction capabilities. Opening of the ICC facilitated development of UIW's international mission. UIW entered into sister school agreements with more than 140 institutions of higher learning in 44+ countries — including multiple locations of China Incarnate Word and two main Centro Universitario Incarnate Word campuses in Mexico City and Irapuato, Mexico. International students today comprise 14% of the student body, and come from more than 70 countries.
UIW's student body today reflects the demographics of its South Texas origin, with 60%+ from racial or ethnic minority groups, most of them first-generation college attendees. Hispanic Outlook in Higher Education Magazine ranked UIW No. 1 nationally among faith-based — and No. 6 nationally among all private, nonprofit — universities in the conferring of bachelor's degrees to Hispanics.
As UIW President, Dr. Agnese actively engaged in community education efforts as well. He initiated the "Brainpower Connection," an alliance of schools from pre-K through university with coordinated curriculum and resources. Impact of this campaign includes maintaining a 600-student girl's high school and a 450-student co-ed high school and partnerships with two elementary schools: the David Robinson-founded Carver Academy (2009) and the Buckner Fanning Christian School (2010).
Dr. Agnese retired from the helm in 2016 but was honored during UIW's Fall 2016 Commencement Ceremony with the honorific titles of President Emeritus and Board of Trustees Emeritus. Since then, Dr. Agnese has done international consulting for universities.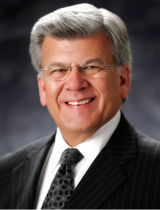 BUSINESS
Heriberto "Berto" Guerra, Jr.
C.E.O. of Avanzar Interior Technologies GP,LLC
Born in Roma, Texas in 1950 and raised in Corpus Christi, Berto Guerra received a Bachelor of Applied Arts & Sciences in interdisciplinary management from Texas State University in 1984 and went on to complete the Penn State Executive Management Program in 1991.
Guerra showed early promise as a businessman. Having worked in customer service at a Corpus Christi Dairy Palace until he left for college, young Guerra upon graduation received a loan to purchase the failing business from its owner. Guerra's successful restaurant turned a profit within a year, enabling him to pay back the $80,000 note. At 19, Guerra bought another restaurant, eventually coming to own and operate three family-friendly locations between 1968 and 1974. Collaborating with his friend Art Torres, Guerra developed what eventually became a multi-state chain of more than 250 Pizza Hut locations. He directed this franchisee business from 1986 to 1992.
Because he wanted to spend more personal time than restaurant management permitted with his growing family, Guerra redirected his career path. He joined Southwestern Bell in 1978, and spent the next 25 years advancing in leadership positions with the expansion of the SBC family of companies. As Executive Vice President–National Constituency Relations, Guerra worked with minority, disabled, education, consumer and senior constituent groups. He also served as Executive Vice President–External Affairs for Southwestern Bell Telephone Company; Managing Director–Corporate Development for SBC Communications Inc.; and President of Southwestern Bell International Development. At his retirement, Guerra was SBC's Vice President–Legislative and Constituency Affairs with responsibilities for oversight of legislative activity in the firm's U.S. region; PAC (political action committee); solicitation and monitoring; and external education for elected officials, regulators and third party constituency groups.
In 2005, in response to a request by Toyota's Shoichiro Toyoda, former San Antonio Mayor Henry Cisneros approached Guerra to help found minority-owned Avanzar Interior Technologies. Today, Guerra is Chairman and CEO of Avanzar, an on-site supplier of Toyota interior door panels, car seats and headliners for every Tundra and Tacoma truck that rolls off the plant's South Side assembly line. Avanzar is the largest and most complex among 24 parts suppliers on the Toyota campus. Its truck seats have taken six "highest-quality in the nation" awards from the automobile rating service JD Power.
Guerra also co-owns three VBM Auto Group Dealerships (Toyota of Boerne, Nissan of San Marcos and Nissan of New Braunfels). All told, his businesses employ a workforce of more than 1,500 in the metro area.
In 2011, then Mayor Julián Castro asked Guerra to chair the San Antonio Water System (SAWS) board. Since that time, Guerra has helped diversify and improve water acquisition for San Antonians by contracting for additional water sources besides the Edwards Aquifer. The Vista Ridge project, currently under construction to pipe water from Burleson County, is the best known of nine initiatives to address drought conditions, population growth, and economic demands for a larger sustainable water supply.
Guerra has an admirable record of activism in professional, civic and educational organizations, including the Austin and San Antonio Hispanic Chambers of Commerce; Vantage and Laredo National Banks; El Centro Del Barrio–CentroMed providing healthcare to low income communities; and Mi Tierra Café (MTC Inc.), downtown San Antonio's signature Mexican restaurant. He has served on the Board of Trustees for Abilene Christian University since 2002 and also serves on the development board for The University of Texas at San Antonio.
Among the countless awards Guerra has received are recognitions in 2007 as distinguished alumnus by Texas State University in San Marcos and Business Owner of the Year by the San Antonio Hispanic Chamber of Commerce. Ernst & Young named Guerra National Entrepreneur of the Year and Central Texas Master Entrepreneur of the Year in 2015.
Guerra has been a Deacon at Northside Church of Christ since 2002. He and his wife Tammy have four children, eleven grandchildren, and one great grandson.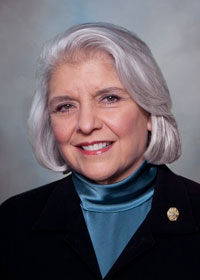 PUBLIC SERVICE
State Senator Judith Zaffirini
21th Senatorial District
The first Hispanic woman elected to the Texas Senate, Senator Judith Zaffirini has passed 1,024 bills, more than any other legislator in the history of the State of Texas. Reflecting her bipartisan effectiveness, as a Democrat in a Republican- dominated legislature, in 2017 and 2015 she passed 109 and 102 bills, respectively.
Her legendary work ethic is reflected in her career-long 100 percent voting record, having cast more than 60,000 consecutive votes—a national record. She is the second highest-ranking senator and the highest-ranking woman and Hispanic senator.
Senator Zaffirini's legislative accomplishments include reforming guardianship, Medicaid, nursing homes, and welfare; improving access to justice, court security, organ donor programs, and services for Texans with disabilities and mental illnesses; and strengthening drunk driving and public safety laws, including prohibiting texting-while-driving.
Her priorities include health and human services in general, with an emphasis on the very young, the very old, the very poor, persons with disabilities, and veterans; and education in general, especially early childhood and higher education. A passionate champion of higher education, she prioritizes academic excellence and focuses on improving accessibility, affordability, accountability, and cost-efficiency while enhancing equal opportunities for success.An educator and businessperson, Senator Zaffirini holds B.S., M.A., and PhD degrees from The University of Texas at Austin, which named her a Distinguished Alumna and an Outstanding Alumna of the Moody College of Communication, awarded her the Presidential Citation, and inducted her into The Daily Texan's Hall of Fame. She is the owner of Zaffirini Communications, through which she offers consulting, writing, and presentation services; and President of the D&J Alexander Foundation and its two entities, Alexander Investments and Alexander Development.
Senator Zaffirini has received nearly 1,000 awards for her legislative, public service, and professional accomplishments, including more than 320 in communication. The diversity of these honors is illustrated by her being named Mr. South Texas by the Washington Birthday Celebration Association; an Honorary Nun, Sister Judith, by the Sisters of Mercy; and the Best Cooker in the Whole World by her son's kindergarten class. Texas Monthly named her one of Texas' "10 Best Legislators" four times, and the Texas Observer gave her the "People's Friend: Lord's Work Award." She is featured in 25 books and referenced in 19.
The senator is the namesake of the Senator Judith Zaffirini Elementary School in Laredo, Zaffirini Student Success Center at Texas A&M International University, Zaffirini Library at Laredo College, AAMA Zaffirini Residential Center in Edinburg, and Zaffirini Road at Lake Casa Blanca International State Park.
Her son, Carlos Jr., has endowed scholarships in her name at UT-Austin, Baylor College of Medicine in Houston, and Texas A&M International in Laredo. He also endowed an Access to Justice Initiative in her and her husband's honor at UT Law School, the Senator Judith Zaffirini Teachers' College Student Loan Debt Grant Program for Laredo teachers, and the Zaffirini family patient suite at the Dell Seton Medical Center in Austin.
Senator Zaffirini reflects the diversity of Texas. She and her husband, Carlos Zaffirini Sr., are both of Mexican, Spanish, and Sephardic Jewish descent. She also is part Greek, and he also is part Italian. Carlos Jr.'s wife, Audrey Pieper, is of German descent. The senator's 1-year-old grandson, Asher Maxwell, has the richest heritage of all.
Regarding her induction into the National Hispanic Heritage Hall of Honor, Senator Zaffirini said, "This honor is meaningful, partly because of the stature of current and previous honorees. It is humbling to join the ranks of almost 100 Hispanic leaders who cumulatively have enriched our ethnic culture, served as role models, improved the quality of life of countless others, made extraordinary contributions to society in a myriad of fields, and are united in motivating Hispanic youth to dream high.
"Our accomplishments reflect the richness of our heritage while demonstrating our ability to make a difference for everyone. More important, this induction affords us opportunities to share our stories with Hispanics of all ages, particularly students. I often tell young people, for example, that I have supported myself since I was 17; married Carlos when I was 18, and he was 21; and worked my way through college with as many as three part-time jobs and no financial aid at UT, other than a National Defense Student Loan, which took me many years to repay. They are even more surprised when I describe the low expectations reminiscent of my childhood, including no motivation to pursue a higher education or a career. My mother hoped her four daughters would grow up to be beautifully bilingual; to type quickly and accurately, in case we had to work; to be well mannered; and to marry well. I'm delighted to have realized her goals for us.
"Often I am asked if I'm proud to be the first Mexican American woman in the Texas Senate. My response always is, 'Proud? I am disgusted it took so long—and more disgusted it took 12 more years to elect a second one and 14 years after that to elect a third.' Only two of us are senators today, underscoring the importance for compadres to have more comadres, especially in the Texas Legislature.
"I am exceedingly grateful to the many persons with whom I have worked throughout my life. Most notable are my beloved husband and son, who are as inspirational as they are supportive. Carlos Sr. and I agree our greatest contribution to society is to have reared a son who is prepared to make significantly more contributions to our great state. Our dream for him is the same as it is for all children: We don't want them to be like us, but to be better; we don't want them to match our accomplishments, but to surpass them."